10 Secret Santa Ideas Perfect for the Office Festivities
10 Secret Santa Ideas Perfect for the Office Festivities
The festive period is quickly arriving as we enter the first few days of December. As we rush and stress to find the perfect gifts for our loved ones we often forget the surprise gifts needed for the office Christmas party. Here we have 10 Secret Santa ideas perfect for your office Festivities.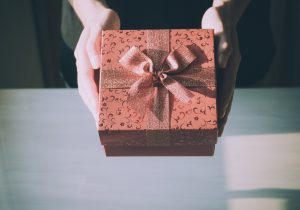 Quick Buys
The Sweet Tooth – We all know the one in the office with a sweet tooth! So why not treat them to a Festive Hot Chocolate mug filled with mini marshmallows and hot chocolate. Perfect to enjoy on a cold winter night to stay in and keep warmed up.
The Beauty Queen – For the beauty queen in the office why not treat them to a new bold print make up bag. Lisa Angels have a ranges of make-up bag that perfectly fit into your handbag. Perfect for a Christmas night out.
The Organiser – Notebooks are always a favourite with stationary loving organisers. Any stationary store can offer creative and unique notebooks that will perfectly suit your colleague.
The Gamer – Board games are a sure favourite for the holidays! From trivia knowledge to strategic games there's a board game favourite for everyone.
The Reader – Books are a good personal choice, especially is you know what the person enjoys readying. Secretly find out what they've been reading recently and see if there are any books in the same genre or by the same author.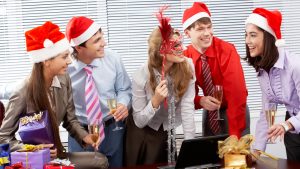 Homemade Gifts
If money is a little tight and you have flexible time to make your gifts then check out our ideas for lovely gifts with a personalised touch. A sure winner for your Secret Santa!
Jams and Chutneys – There are tons of jams and chutney recipes online that are quick and easy to make. If you are organised you can start making your jams and chutneys up to 6 weeks before gifting them to your colleague. Sure way to impress them!
Mini bar – Why not buy some miniature bottles of different spirits and pop them into a jar with some mini peanuts for the perfect mini bar set!
Mini spa day – Gather together a face mask, nail polish, hair mask and any other pampering products to create the perfect homemade mini spa day.
Hamper – Hampers are a great way to show off your home baking skills and creating a festive feel to your gift. Put together your best baking, favourite drink with some special condiments for the perfect foodie present.
Keep it Cosy – We all love to keep warm in winter so why not put together some cosy gloves, hat and scarf! Perfect for the cold season.